There are no events scheduled for this month
You'll also discover:
Some keys to increasing the number of volunteers as well as their effectiveness.
What's needed to turn a group of people into a team of people.
The secret to keeping volunteers on board for the long haul.
The reasons why some "fail" in their ministry roles and what to do about it.
Ways to "put more in" than you "take out" of those you lead
How to equip your church or ministry to have a greater impact on your community.

What people are saying about LeaderShift LIVE:
"Kingdom leadership is way different than worldly leadership. Most helpful."
"The breakfast of Champions."
"It's the best leadership material I've read in a long time. My prayer is that I can be the type of leader that this conference speaks to."
A kick in the butt to equip my leadership team!
This was an awesome seminar – Biblical, practical, very helpful. Thank you!
I am blessed to hear Don Speak again and admire his passion, life experience, and focus on God. I am now better equipped to lead myself and those around me!
Excellent, insightful, and needed shift in thought and practice for leaders in the church.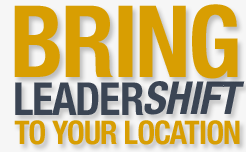 Bringing a Leadershift conference to your location is simple. We provide you with posters, bulleten flyers, even a 2 minute promo to run during a service if you're interested.
Booking a date is simple. Simply email us. We'll answer questions about cost and availability promptly. Once we settle on a date, we send you any support materials you might need, talk to your leadership about what they'll need to do once the conference is done, and that's it. So start by CLICKING HERE and we'll talk soon.